Gastritis is an inflammation of the protective stomach lining. Acute gastritis involves sudden, severe inflammation. Chronic gastritis involves long-term inflammation that can last for years if it's left untreated.
More than 1 million cases per year (India) [Source: Apollo Hospitals]
WHAT ARE THE CAUSES?
#1
Weakness in your stomach lining allows digestive juices to damage and inflame it, causing gastritis.
#2
A gastrointestinal bacterial infection can also cause gastritis. The most common bacterial infection that causes it is Helicobacter pylori.
Other risk factors include:
extreme alcohol consumption
routine use of nonsteroidal anti-inflammatory drugs (NSAIDs) like ibuprofen and aspirin
cocaine use
age, because the stomach lining thins naturally with age
tobacco use
stress caused by severe injury, illness, or surgery
autoimmune disorders
digestive disorders like Crohn's disease
viral infections
WHAT ARE THE SYMPTOMS?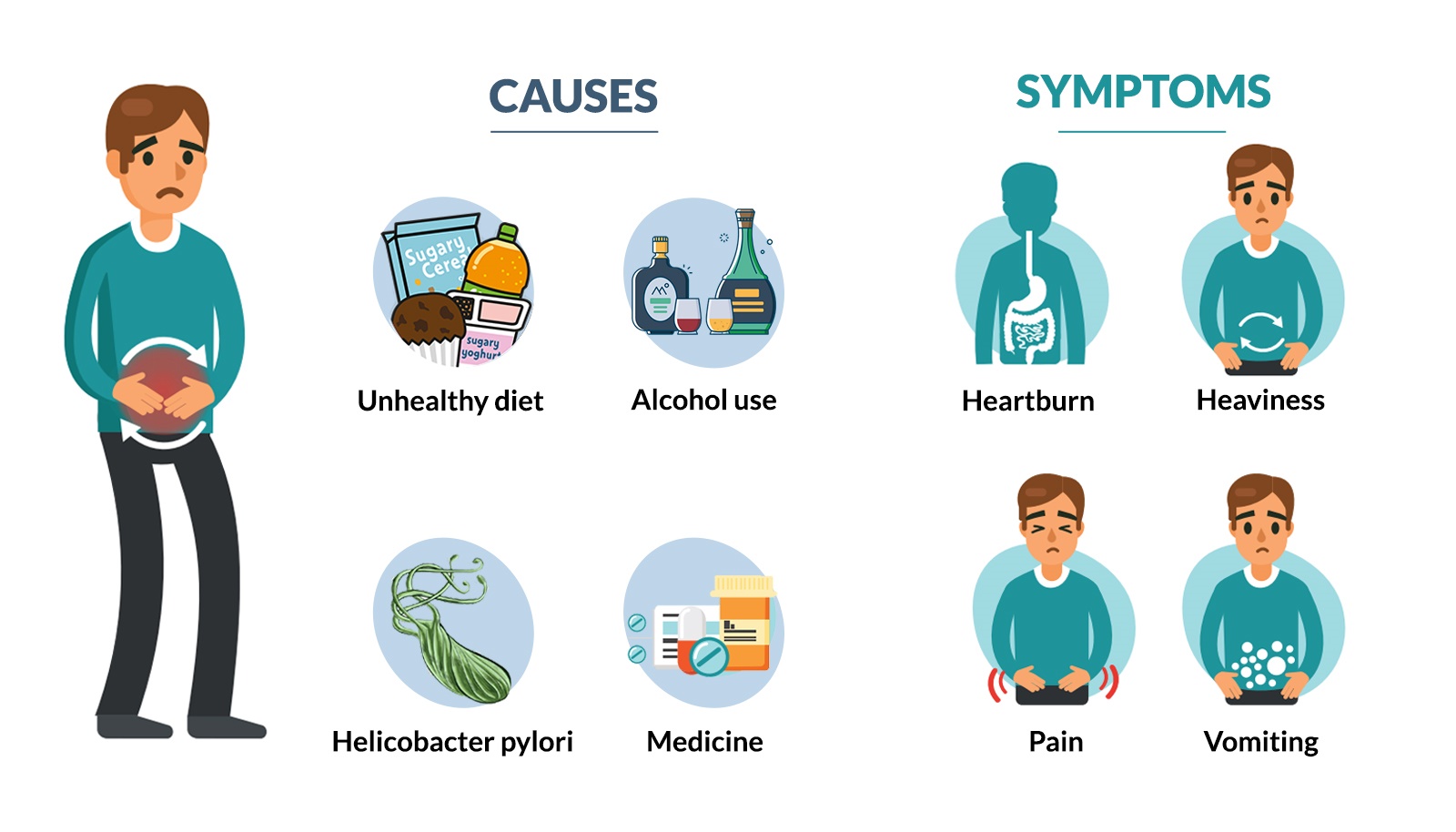 Usually gastritis can have no symptoms, but people may experience:
Pain areas: in the abdomen or upper abdomen
Gastrointestinal: belching, heartburn, indigestion, nausea, or vomiting
Also common: loss of appetite
SEE ALSO: ABDOMINAL PAIN – WHEN TO SEE A GASTROENTEROLOGIST
HOW IS GASTRITIS TREATED?
The treatment for gastritis depends on the cause of the condition. If you have gastritis caused by NSAIDs or other drugs, avoiding those drugs may be enough to relieve your symptoms.
Antibiotics and antacids might help in some cases.
Medications that help treating gastritis:
Antacid, Proton-pump inhibitor, Penicillin antibiotic, Antibiotics, and Diarrhoea Medication
Whom should you consult for gastritis?
Gastroenterologist or Primary Care Provider (PCP)